Stocks-markets-Japan-open Tokyo stocks open lower after winning streak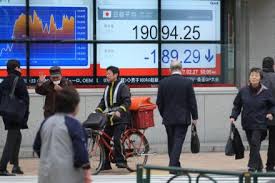 Tokyo, Sept 26 :Tokyo stocks opened lower on Wednesday after a recent winning streak that catapulted the key index to an eight-month high.
The benchmark Nikkei 225, which rose for the seventh straight session to close at an eight-month high on Tuesday, gave up 0.35 percent or 83.69 points to 23,856.57 in early trade. The broader Topix index was down 0.52 percent or 9.48 points at 1,812.96.
"Selling to lock in profits leads trading," Okasan Online Securities chief strategist Yoshihiro Ito said.
He said the market was expected to be "solid" as a cheaper yen underpinned expectations for good corporate earnings.
A weak yen is positive for Japanese exporters as it makes their products more competitive in overseas markets and also inflates profits when repatriated.
But from a technical point of view, a seven-day winning streak — with an overall gain of 1,335 — meant large-scale gains were unlikely, he said in a commentary.
The dollar was holding firm, trading at 112.97 yen against 112.96 yen in New York on Tuesday afternoon and little moved by US-Japan ministerial-level talks on trade.
After an hour of talks in New York, Japan's chief negotiator Toshimitsu Motegi said Tokyo and Washington "basically shared the view on a framework and steps for boosting bilateral trade", according to Jiji Press.
Investors were now waiting for Japanese Prime Minister Shinzo Abe's meeting with US President Donald Trump on Wednesday.
In individual stocks trade, Sony climbed 1.60 percent to 6,765 yen and IT investor SoftBank Group rose 1.92 percent to 11,135 yen.
Toyota was down 2.10 percent at 6,972 yen.