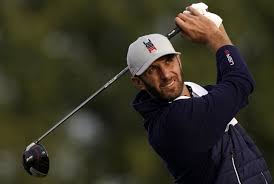 golf-Ryder-Point
Johnson, Fowler win first point of Ryder Cup for US
SaintQuentinenYvelines, France, Sept 28 :Dustin Johnson and Rickie Fowler won the first point of the Ryder Cup for the United
States on Friday with a 4 & 2 victory over Rory McIlroy and European rookie Thorbjorn Olesen.
golf-Ryder-PointJohnson, Fowler win first point of Ryder Cup for US
SaintQuentinenYvelines, :Dustin Johnson and Rickie Fowler won the first point of the Ryder Cup for the United
States on Friday with a 4 and 2 victory over Rory McIlroy and European rookie Thorbjorn Olesen.
Both pairings struggled for birdies early on with the match all-square through seven holes, but the Americans reeled off five birdies in eight holes to storm into a three-up lead.
Dane Olesen struck his first Ryder Cup tee shot into the water, but spent much of the match carrying four-time major winner McIlroy,
who was out of form, failing to make a single birdie or win a hole.
McIlroy and Olesen both missed lengthy birdie tries on the 16th hole to end the match with a whimper.