Two killed, five injured in incidents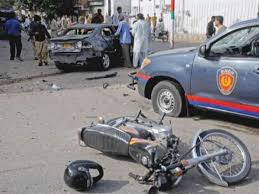 SARGODHA, Sep 28 Two men were killed while five others injured in accidents in Sajid Shaheed and Esa Khel police limits on
Friday.The police said Sooni Khan of village Chant was travelling on a motorcycle when a recklessly driven tractor-trolley
hit it near General Bus Stand. As a result, he died on way to hospital.
Meanwhile, a tractor-trolley collided with a vehicle in which Omar Badshah died on the spot while Dawood Khan, Shahid, Wazir
Khan, Shamim Bibi and Gulab Khan were injured.