FM-Speech FM speech at UNGA widely hailed in KP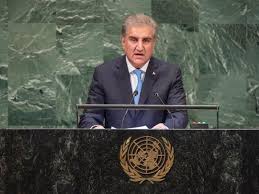 PESHAWAR Sept 30 :People from cross section of the society here Sunday widely hailed the speech of Foreign Minister, Shah Mehmood Qureshi at United Nations General Assembly (UNGA) and termed as per wishes and aspirations of people
of Pakistan.
Member National Assembly, Nasir Khan Musazai said FM Qureshi speech was inclusive and wide-ranging as he boldly covered all
issues related to Pakistan in effective way.
He said FM Qureshi has highlighted the core issue of Kashmir in most effective manner as per wishes and aspirations of people of
Pakistan and Kashmiris.
He said road to peace in South Asia is passing through Kashmir and without resolution of this core issue, peace in the region would
continue to remain a dream.
Retired Information Officer, Misal Khan has also welcomed the address of Foreign Minister of Pakistan and termed it very
comprehensive in all respect.
He said all issues related to regional and international including of Afghanistan conflict, Kashmir dispute, terrorism, blasphemous
caricatures and Pakistan sacrifices in war against terrorism for global peace were boldly highlighted.
He praised FM Qureshi for highlighting continued atrocities and grave human rights violations of India against innocent Kashmiris at India Held Kashmir. He said time has come that UN should come forward and implement its resolution on Kashmir inevitable for
peace in South Asia.Nazim Bhadar Khan has also welcomed FM speech and termed voice of people of Pakistan.
He said FM has highlighted problems of the region and Pakistan role in UN peace missions in more effective way.