Motorcycle-Riding Local Administration lifts ban on motorcycle riding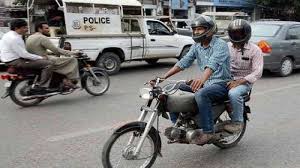 BAJAUR, Oct 1 ::The local administration Monday lifted
ban on motorcycle riding in Bajaur tribal district, official told.
Talking to reporters here, an official the administration
had imposed ban on motorcycle riding a week ago following the killing a leviesman Naib Subedar Sarfarz Khan while he was performing his duty with a polioteam in Badan area on last Monday.
The decision to withdraw the ban on motorcycle riding was
taken during a meeting of senior officials and representatives of differentpolitical and traders organizations held with deputy commissioner Mehmood Ahmedin the chair.
He said that initially the senior officials had decided
to keep the ban on motorcycle riding for indefinite period as its caused lawand order in the region.
During the meetings, he said that members of the
delegations requested the officials to withdraw the ban on motorcycle riding asit was the cheap source of transportation for local people.
He said the administration has also returned the seized
motorbikes to the local people as good will gesture.