CS-Polio CS expresses strong commitment for polio eradication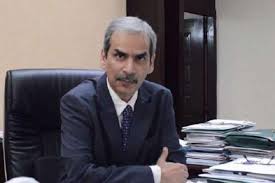 PESHAWAR, Oct 02 :Chief Secretary Khyber Pakhtunkhwa Naveed Baloch showed full commitment for polio eradication initiative saying that various provincial oversight bodies established for polio eradication meet regularly to ensure
that the programme stays on track and the goal of stopping wild polio virus circulation by the year end is achieved.
He said this during his meeting with the visiting Chairman Technical Advisory Group (TAG), the apex global body for Polio Eradication Initiative (PEI), Jean -Marc who called on him here at his office.
Chief Secretary said that he will chair meeting of the provincial task force next week wherein the programme progress will be reviewed with focus on the issue of persistent wild virus circulation in the environment.
Chairman TAG Jean -Marc thanked chief secretary for the commitment and for leading the programme from the front and hoped that the crippling disease will soon be wiped out of the region.
Later, the TAG chairman visited Emergency Operations Center Khyber Pakhtunkhwa (EOC) where he was briefed on updated status of the programme by Coordinator EOC Abid Khan
Wazir while deputy commissioner Peshawar Imran Sheikh briefed him on Peshawar Emergency Action Plan.
Speaking on the occasion, Jean Marc said appreciated Peshawar Emergency Action Plan calling it the right approach to identify issues at grass root level that were creating major hurdles in purging the environment of polio virus and reaching the goal of polio free region.
The TAG
chair also underscored the need for provision of essential immunization services and better sanitation conditions specially in the drainage Union Councils of Peshawar to improve the immunity and hygiene status of people.
He appreciated EOC and district administration for working in close coordination in pointing out the lingering issues and addressing them jointly.
TAG chair
also visited Shaheen Muslim Town, one of the high risk union councils of Peshawar where he met with the teams and other field staff.
Director
General Health Services Khyber Pakhtunkhwa Dr Ayub Rose, Deputy Commissioner Peshawar Imran Sheikh, Director EPI Dr Akram Shah, National Team Leader UNICEF
John Agbor, Team Leader WHO Dr Abdi Nasir, Technical Focal Person BMGF Dr Imtiaz Ali Shah, Provincial Team lead N Stop, Dr Ijaz Ali Shah and relevant staff of district administration and partner staff were present on the occasion.