ICT-Encroachment ICT admin decides to form task force for removing encroachments along Nullah Korang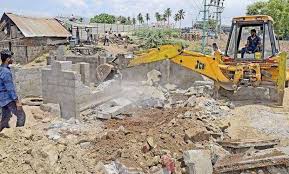 ISLAMABAD, Oct 2 :Islamabad Capital Territory (ICT) administration has decided to remove the illegal constructions in and around Nullah Korang.
According to the sources in ICT, it has been decided to issue one week notices to the illegal constructors around the Nullah Korang to demolish illegal structures failing which legal action will be taken against the violators under the law and ICTA, Police, CDA and Pakistan Environmental Agency jointly take action in the matter.
The sources said that certain legal options are being considered to ensure keeping Nullah Korang pollution-free and taking
stern action against those who erected illegal constructions alongside Nullah Korang.
The sources said that a task force will be constituted to deal with the issue of encroachments and illegal constructions at
the Nullah.It has been also decided that CDA, ICTA, Police and Pakistan Environmental Agency will work together to take action
against those who are responsible for polluting the bed of water course.
Pakistan Environmental Agency will prepare report regarding pollution and forward it to ICTA, CDA for keeping the area
clean. The local population has been asked to construct septic tanks for cleanliness, the sources maintained.
Earlier, the reports were also prepared and action was taken against violators, but certain violations have been underway for the last few months, the sources said adding that recent operation will ensure complete implementation on laws in future.