Spain-Catalonia-politics Spanish PM raps Catalan leader after unrest in Barcelona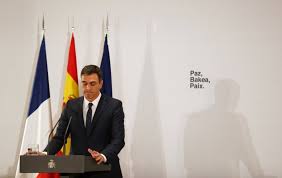 Madrid, Oct 2 :Spanish Prime Minister Pedro Sanchez on Tuesday rapped Catalonia's separatist leader Quim Torra for "encouraging radicals" a day after clashes erupted in Barcelona on the anniversary of a banned independence referendum.
Hundreds of pro-independence protesters knocked down barriers at the entrance of the regional parliament late Monday evening, provoking clashes with police and forcing the leader in Catalonia of anti-secession party Ciudadanos to leave the building under escort.
The clashes topped a restive day in the northeastern region, where radical activists, many of them hooded, cut roads and railway lines on the one-year anniversary of the referendum, encouraged by Torra, who earlier in the day had applauded their form of street pressure.
"President Torra must abide by his responsibilities and not endanger political normalisation by encouraging radicals to lay siege to institutions which represent all Catalans," Sanchez said in a tweet in his first reaction to the sensitive anniversary.
Catalonia's independence referendum on October 1, 2017 was marred by a violent police crackdown on polling stations in footage that went around the world.
A year later, the tables turned with images of radical independence supporters cutting roads and railway lines, muscling their way into a government building and clashing with police, making headlines in Spain.
Even former Catalan president Carles Puigdemont, who is in self-exile in Belgium after last October's secession bid, condemned the violence.
"If they are hooded they're not from the 1-0," he tweeted in reference to the referendum last year, which eventually led to a short-lived unilateral declaration of independence on October 27.
That prompted then prime minister Mariano Rajoy to sack the regional government, dissolve the Catalan parliament and call snap local elections.