FAPUASA-Appointments FAPUASA demands merit based appointment of heads of federal universities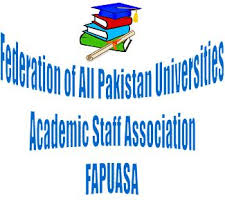 ISLAMABAD, Oct 4 :Federation of All Pakistan Universities Academic StaffAssociation (FAPUASA) Thursday demanded for end of extension and adhocism culture inhigher education sector while appointing of new Vice Chancellors/Rectors through open,
competitive and merit-based mechanism.
During a meeting with the delegations of varsities of Islamabad, President of the Islamabadchapter of FAPUASA Dr. Sohail Yousaf said higher education in Pakistan, now-a-days is facing
a number of problems of severe nature, which has damaged it's image and progress, a pressrelease said. "Specifically, the universities of federal capital are passing through the most
turbulent time of the history. The corruption, nepotism and illegal appointments has ruinedoverall teaching and research culture of the federally chartered varsities. The root cause of allsuch evils is the appointment of incompetent and corrupt heads of varsities," he added.Sohail lamented that the persons responsible for such abysmal state of higher education arebeing considered again for new top positions. The competent and dynamic personalities should
be given a chance to lead higher education instead of corrupt and people with severe plagiarismcharges, he added.
He said that the process must be open and the credentials of the applicants must be made publicso every one can analyze the competency.
The previous non-merit based appointments of HEC Chief and heads of varsitiesproved as a big blow on progress of higher education and now it is the need of time to avoidpeople with charges of corruption and plagiarism and are under investigation of NAB; otherwise,the higher education which is already at verge of collapse may deteriorate further, he advised.
The closed door secret policies may not pay any dividend to higher education and the adverseresult of such policies can be observed through the state of higher education in Pakistan, heinformed.
The new government values education as it's highest priority and it is expected thatthey may not choose the destructive path as of his predecessor and 'Naya' Pakistan will initiatethe reforms in higher education through merit based transparent appointments of varsities head,he concluded.