Ukraine-ammunition depot blast Ukraine's ammunition depot blast causes no casualties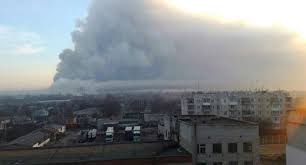 KIEV, Oct 9 :The blast that ripped through an ammunition depot of the Ukrainian army in the northern Chernigiv region early Tuesday caused no casualties, the country's Defense Ministry said.
   The evacuation of the areas surrounding the depot is underway, the ministry said in a statement.
   According to the Chernigiv regional administration, people are being evacuated from 38 towns and villages.
   The blast occurred at about 3:30 a.m. local time (0030 GMT) at a depot near the town of Ichnya about 170 km east of Kiev, triggering a fire and the subsequent massive detonation of the ammunition.
   The cause of the explosion is still unknown.