Taiwan train derailment in Yilan County kills at least 22 Rescue operations are continuing into the night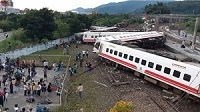 At least 22 people have been killed and 170 injured in a passenger train derailment in north-east Taiwan.
Railway authorities say they are investigating the accident, which happened in Yilan County at about 16:50 local time (08:50 GMT) on Sunday.
A total of 366 people were on the train travelling between Taipei and the eastern county of Taitung when all eight of its carriages derailed.Taiwan's Central News Agency reports that dozens may still be trapped.
The Puyuma Express 6432 service reportedly came off the tracks close to Xinma station, near the town of Su'ao about 70km (43 miles) from Taipei.
The deputy chief of the Taiwan Railways Administration, Lu Chieh-shen, told a news conference on Sunday that the train was only six years old and had been in "pretty good condition" before the accident.
It is not immediately clear what caused the train to derail, but witnesses told local media they heard a loud noise then sparks and smoke.
Emergency medical responders and firefighters are helping the injured and the defence ministry says it has sent 120 soldiers to help with rescue efforts.
Witnesses reported having to break windows to escape the carriages, and dozens of injured have been transported to local hospitals.
Authorities say five of the train's eight carriages ended up on their side
Photographs from the scene show seats upended, with parts of the railway tracks twisted through carriage windows in places.
Taiwan's leader, Tsai Ing-wen, described the accident as a "major tragedy" on Twitter.
"My thoughts are with all the victims and their families," she added.
Taiwan has an extensive train network and more than half a million passengers travel on the system every day.