PM Modi unveils Statue of Unity, world's tallest at 182m, in tribute to Sardar Patel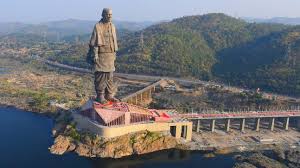 Ijndian Prime Minister Narendra Modi on Wednesday unveiled the world's tallest statue, the Statue of Unity, in Kevadiya in Gujarat's Narmada district. The 182m-tall statue of Sardar Vallabhbhai Patel was inaugurated to coincide with the 143rd birth anniversary of Patel, India's first home minister.
Modi pulled a lever and inaugurated the statue at a ceremony along the banks of Narmada river in Gujarat's Kevadiya. He lead the puja ceremony with water brought in a kalash (metal pots) from 30 holy rivers, including the Ganga, Yamuna and Brahmaputra among others.
Dedicating the statue to the nation, Modi called this a significant moment in the history of the country as a proper tribute had not been given to the tall personality who had worked hard to make India's identity
"This is a project that we had conceived when I was the chief minister of Gujarat. To build the statue, lakhs of farmers from all over India came together, gave their tools, portions of soil and started a mass movement," Modi said.