Nissan boss arrested over 'misconduct'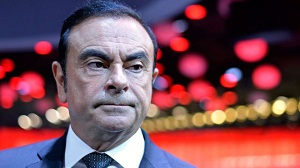 Carlos Ghosn is head of the Alliance, which includes Nissan, Renault and Mitsubishi.Nissan chairman Carlos Ghosn has been arrested over claims of financial misconduct, the carmaker has said.
Mr Ghosn, a towering figure in the car industry, will be sacked from the Japanese firm after a board meeting on Thursday, its chief executive said.
He has been accused of "significant acts of misconduct", including under-reporting his pay package and personal use of company assets.
Nissan said it was unable to give further details on the offences.
Japanese prosecutors have yet to comment on Mr Ghosn's arrest.
Nissan is the world's sixth-largest carmaker and its site in Sunderland is the UK's biggest car plant.
"I feel despair, indignation and resentment." said Nissan chief executive Hiroto Saikawa at a news conference.
"As the details are disclosed I believe that people will feel the same way as I feel today," he added.
Nissan's Hiroto Saikawa said he believed the misconduct "went on for a long period"
Mr Saikawa said Nissan would now try to "stabilise the situation, and normalise day-to-day operations" for staff and business partners.
It said it had been conducting an internal investigation for several months, prompted by a whistleblower.
According to Japanese media reports, which have not been confirmed, he under-reported an amount totalling 5bn yen ($44m; £34m) over a five-year period from 2011.
Mr Saikawa said he believed the misconduct "went on for a long period".