Saudi financing – Not enough Mr PM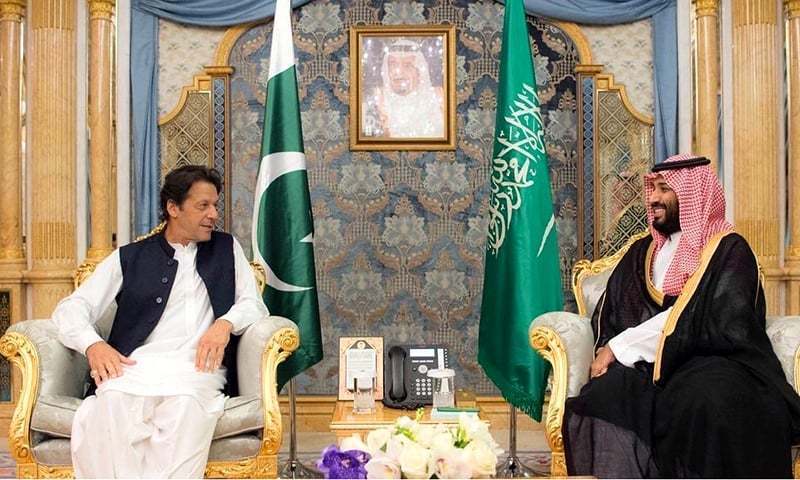 By Senator Rehman Malik
Saudi Arabia is like our elder brother and has always helped Pakistan in difficult times. The recent aid by Saudi Arabia on the request of Prime Minister Imran Khan is indeed a sympathetic gesture but it is neither first nor enough. Saudi Arabia is giving such grand favours to Pakistan since day one and supported us in the two wars with India in 1965 and 1971 also.
This time, Saudi Arabia was kind enough to give us 'Deferred Oil Payments Relief' by increasing the payment period from three months to one year. The relief package shows that now Saudi Arabia would be selling its oil to Pakistan with an extended period of 12 months instead of 3 months.
On the invitation of the then Prime Minister of Pakistan Shaheed Zulfiqar Ali Bhutto, in 1974 King Shah Faisal of Saudi Arabia helped Pakistan to host the OIC Summit in Lahore. The historical summit was attended by great charismatic leaders i.e. King Shah Faisal of Saudi Arabia, Syrian President Hafez al-Assad, President Mohammad Muammer Gaddafi of Libya, President Houari Boumedienne of Algeria, Prime Minister Tun Abdul Razzak of Malaysia, Mr. Yasser Arafat Chairman of the Palestine Liberation Organisation, President Anwer Saddat of Egypt and others.
The major support came from Saudi, when Shaheed Zulfiqar Ali Bhutto- the architect of the country's atomic programme, said in an interview in 1965 ''we (Pakistan) will eat grass, even go hungry, but we will get one of our own (atom bomb)…. we have no other choice". Pakistan had achieved the capability to detonate a nuclear bomb by the end of 1984, the development of which had begun in January 1972 under Prime Minister Zulfiqar Ali Bhutto. Pakistan became the first Islamic Nuclear State with brotherly help of Saudi Arabia and some other Muslim Countries. On 28 May, 1998, when Pakistan successfully conducted nuclear tests and subsequently sanctions were imposed by West, Saudi Arabia came forward and helped us by supplying 50,000 barrels of oil free of cost per day for one year. Besides, more than 1.5 million Pakistanis are working in Saudi Arabia contributing 10 % of total remittances being received from overseas Pakistanis.
Saudi Arabia along with UAE generously helped Pakistan in response to the 2005 earthquake in Azad Jammu & Kashmir and Northern Areas of Pakistan. The then Saudi King Abdullah had announced emergency aid package worth 133 million dollars for Pakistan to help the earthquake stricken areas. The people of Saudi Arabia had also made a big contribution in helping victims of the earthquake, on the call of Saudi government.
This time, when the country is passing through financial crisis, on the request of Pakistani Prime Minister, Saudi Arabia again came forward and announced a 'Relief Package for Pakistan'. According to the reports, the Saudi Arabia has agreed to give Pakistan $3 billion in foreign currency support for a year and a further loan worth up to $3 billion in deferred payments for oil imports. Saudi Arabia will place a deposit of $3billion in our Central Bank, which will remain as a deposit in the name of Saudi treasury. This amount will remain there as balance of payment support and Pakistan will neither be able to use it for any of its economic needs nor will it be able to use it for repayments to International Monetary Fund -IMF. It must be mentioned here and the nation must know the fact that this Saudi package is neither a loan nor a grant and it should be treated as normal fixed deposit of a client in our Central Bank. The deposit would be withdrawn after a period of one year by the Saudi Government from Central Bank. This nominal deposit of $3 billion is not going to bring any qualitative changes to the economic burdens we are facing. This deposit will merely reflect our foreign reserves but the higher inflation rate will continue to increase and the price hike will continue even if the growth rate increases by some fractions.
Prime Minster Imran Khan has said that the Saudi Government has announced this amount of $3 billion for oil on deferred payment for one year whereas Saudi Arabia was already giving oil to Pakistan on the basis of three months deferred payment facility. The Prime Minister also claims that it cannot be treated as loan hence cannot be used to pay off the IMF repayments. This amount shall be used to buy crude oil only on some fixed FOB price and the additional cost will be added to make it C&F delivery to Pakistan. This 'Defer Oil Payments Relief' by Saudi Arabia is actually a business deal to sell the oil on easy conditions and extended period of payment, in other words a help in goods rather than cash.
The situation has raised the following common questions to be answered by Asad Umar, Finance Minister of Pakistan. Has Saudi Arabia allowed the using of $3billion deposit for economic needs of Pakistan?
Will Pakistan have to pay some interest/ profit on this fixed deposit if it is allowed for investment purpose?
What are the terms of agreement on deferred payment for oil and will it be on spot basis cargo or through regular supply?
If it is regular supply then I want to ask if it will be purchased on Brent basis or the ORB (OPEC Reference Basket). And, are the prices fixed or would be fixed on each cargo?
Will the supply be on FOB basis or the C&F? Will there be interest on these deferred payments? And what are the present terms of Saudi sweet light crude oil presently being supplied by Aramco? Will both the Governments agree on the existing terms of sale / purchase as decided by Aramco?
What volume / quantity in terms of barrels per month is agreed and how many cargos? Is this help from Saudi Arabia going to fulfil our entire requirement?
The above questions should be taken in positive direction, as these are my questions for my Government as a Parliamentarian. This relief is not going to solve our deep-rooted economic crunches and it looks Pakistan will have to go to IMF for further loan. The economic specialists cannot cure this ailing economy with a Panadol only rather it needs very skilful economic surgery by infusing SOS measures in mobilisation of our own richly available resources. Nation needs a pragmatic economic plan whereas it is still being kept in dark vis-à-vis knowledge of the grave growing economic situations of the country and forthcoming tsunami of price hike, which will add further miseries for common people