Frigid nights, black ice to follow southern US snowstorm through midweek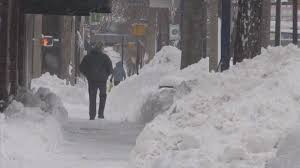 Maryland: Following the storm that dropped up to 2 feet of snow and cut power to hundreds of thousands into Tuesday, frigid nights will set the stage for difficulties for those without a means for heat and motorists venturing on icy roads.
Areas from North Georgia and northernmost South Carolina to eastern Tennessee, eastern Kentucky, central and western North Carolina, southern West Virginia, central Virginia and southern Maryland were hit with heavy snow and/or ice from the most recent storm.
"A clear sky, light winds and an extensive deep snow cover will allow temperatures to plummet at night," according to AccuWeather Meteorologist Courtney Travis.
Temperatures are forecast to dip into the teens and 20s F Tuesday night and into the 20s to lower 30s Wednesday night.
Record lows this time of the year are generally in the single digits to middle teens. However, under perfect conditions, a few spots may have temperatures dip to record-challenging levels.
Overall, temperatures will average as much as 10 degrees below normal through Wednesday.
People are reminded to never operate generators indoors, including in attached garages. Odorless fumes can seep into living areas.
Officials caution against using propane stoves or kerosene heaters to heat your home, since these units have no way to efficiently vent fumes outdoors.
"Melting that occurs during the day will lead to wet streets and sidewalks," according to AccuWeather Senior Meteorologist Brett Anderson.
"Where this water does not dry off or is not treated with ice-melting compounds, a thin sheet of ice is likely to form, known as black ice," Anderson said.
This freeze-up may begin as early as the late afternoon and early evening hours each day. Some of the first areas to turn icy are likely to be in locations that are not exposed to the sun or on elevated surfaces, such as bridges, overpasses and stairways. Motorists and pedestrians should assume that any areas that appear wet during the evening and morning commute time are icy.
During the second half of the week, temperatures are forecast to moderate significantly.
While a few patches of black ice are possible on Thursday morning, the threat should not repeat Thursday night as clouds from the next storm move in.
The next storm, scheduled for Thursday night to Saturday, is expected to bring rain and not snow and ice.