Hamza stopped from flying abroad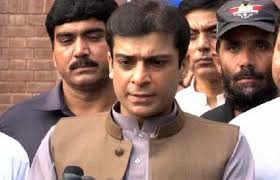 Lahore: Officials from the Federal Investigation Agency (FIA) on Tuesday offloaded leader of the opposition in the Punjab Assembly Hamza Shehbaz from a foreign airline's flight at Lahore airport.
 Hamza was traveling to Doha when he was made to disembark from the flight at the Allama Iqbal International airport.
 Officials confirmed that the PML-N leader was offloaded from the flight because of a NAB case pending against him.
 A spokesperson for the Sharif family said Hamza was stopped at an immigration counter at the airport over his name included in the blacklist, adding that neither was he required by NAB nor any other institution.
 He termed the FIA's stopping Hamza from flying abroad political vengeance.
 Meanwhile, Punjab Information and Culture Minister Fayyazul Hassan questioned why the PML-N leader was trying to flee the country.
 He said the NAB had been carrying out a probe against members of the Sharif family as their wrongdoings are surfacing.
 The NAB had launched an investigation against the PML-N leader and his brother Salman Shehbaz for allegedly amassing assets beyond his sources of income.
 Hamza had earlier obtained protective bail from the Lahore High Court to avoid his possible arrest at the hands of the Bureau.
 The PML-N leader is also being probed by the anti-graft watchdog in Ramzan Sugar Mills and Saaf Pani Company Scam.
 Earlier on October 30, Hamza Shehbaz and Salman Shehbaz did not appear before the NAB in the Ramzan Sugar Mills case.
 NAB had summoned both the brothers, the directors of Ramzan Sugar Mills, over illegal construction of a bridge from national exchequer to facilitate their mills, causing the loss of Rs 200 million.
 The NAB team kept waiting for them, but the two brothers did not appear before it. Hamza Shehbaz Sharif preferred to attend a party meeting instead of appearing before the NAB, whereas his brother Salman Shehbaz left the country on the same very day.