SSGCL to open CNG station from December 15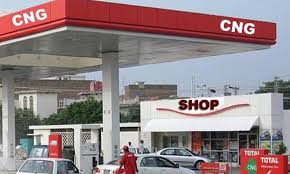 Karachi: Providing relief to Karachiites, the Sui Southern Gas Company Limited (SSGCL) has announced to open Compressed Natural Gas (CNG) station from Saturday (December 15).
 Karachiites are suffering a serious transport crisis as majority of personal and public transport vehicles stayed off the roads as the CNG suspension entered fifth day today.
 After the resumption of CNG sale, people will be able to buy petrol on cheaper rates while the fare of rickshaw and taxis will also decrease. 
SSGC spokesperson Shehbaz Aslam said that the reason behind gas suspension was the government's gas load management plan.
 Petroleum Minister Ghulam Sarwar Khan told the industrialists of Karachi chamber that the gas supply has improved and will be available to the consumers soon.
 Sindh Chief Minister Syed Murad Ali Shah during a meeting with Federal Minister for Petroleum Ghulam Sarwar Khan in Karachi said that suspension of gas supply in the province has affected a large number of people and also caused unemployment.
 The Chief Minister said that Sindh produces 2600 to 2700 million cubic feet gas per day while the quota the province receiving is one thousand to 1100 mmcfd.
 He said that Karachi has 400 industrial units and over one million of work force that has been affected from the low supply of gas while CNG stations have also been closed.
 He said that according to Article 158 of the Constitution, people of area where gas is produced have the first right on it but here people of Sindh were most affected by the shortage of gas.
 The Chief Minister asked the Federal Minister to lift the ban on providing new connections to domestic consumers in Karachi.
 He was of the view that domestic consumers should get benefit of gas on priority. The Chief Minister also asked to give representation to Sindh in gas companies.
 Speaking on the occasion, the Federal Minister for Petroleum termed the meeting as successful. He asked the Sindh government to form a committee in this regard that will hold meetings with Petroleum Ministry to resolve the issue.
During the meeting, it was also decided to give representation to provinces in OGDCL, SSGC, SNGC and other gas companies.