Pakistan, China, Afghanistan sign deal on anti-terror cooperation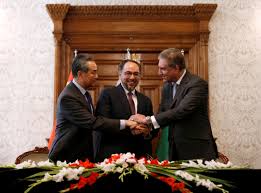 Kabul: Pakistan, China and Afghanistan on Saturday signed a Memorandum of Understanding (MoU) on anti-terrorism cooperation.
The MoU was signed by Foreign Minister Shah Mehmood Qureshi, Chinese Foreign Minister Wang Yi and Afghan counterpart Salahuddin Rabbani. The signing of the MOU was witnessed by Afghan President Ashraf Ghani.
In his inaugural speech, Afghan Foreign Minister Salahuddin Rabbani stated that collective efforts are required to address the common challenge of terrorism.
"We desire to strengthen our relations with Pakistan, the Afghan foreign," minister said, and also appreciated the Chinese One Belt One Road (OBOR) initiative.
FM Qureshi, in his address during a joint news conference, stressed for a joint strategy to eradicate the menace of terrorism from the region.
He noted that, "only through collective efforts we can wipe out terrorism and achieve the objectives of peace and development."
The foreign minister said "we all want peace and stability in Afghanistan," adding that "Pakistan will benefit the most from the peace and stability of Afghanistan."
Pakistan will extend cooperation to bring all the afghan groups to the table of negotiations, the foreign minister said. However he said it was up to the Afghans themselves as to how they want to achieve the goal of peace.
"Pakistan condemns terrorism in all its forms and manifestations," Qureshi stated adding, that he said he is visiting Kabul to bridge the trust deficit between the two countries.
In his remarks, Chinese Foreign Minister Wang Yi said, that "both Afghanistan and Pakistan are friends of China, and that China will extend every possible cooperation to build trust and confidence between the two countries.'
China will also assist in establishing connectivity projects including a rail line between Peshawar-Kabul and Kandahar, the Chinese FM said.
Qureshi announced earlier that he would depart for Afghanistan on December 15 for talks with Kabul on political reconciliation and durable peace in the country.
The foreign minister underscored that Islamabad's foreign policy is on a positive trajectory based on national interest and self-reliance, and reiterated that Pakistan is committed to Afghan-led and Afghan-owned peace process.