French intelligence say no Russian connections in Yellow Vests protests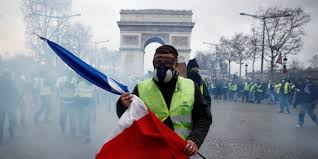 Paris: No evidence of Russia's involvement in the protests that have been rocking France for a month has been found, Journal du Dimanche reported on Sunday citing a source in the French intelligence services.
"As of today, no evidence of their (Russia's) involvement in the movement (of Yellow Vests) has been found," the source said, adding that these are only interim results of the probe, Russia's Tass news agency reported.
The source however, said he is sure that Russia may support opposition forces and nationalists at the elections to the European Parliament next spring. But, again, nothing was said to substantiate these allegations.
France's Foreign Minister Jean-Yves Le Drian said earlier that the country's Secretariat-General for National Defence and Security is probing into media reports hinting that Russia demonstrated increased cyber activity in social networks in the period of street protests.
On Sunday, Russia's foreign ministry expressed protest over media reports about BBC's seeking to find evidence of Russia's involvement in the ongoing protests in France. The ministry's spokeswoman, Maria Zakharova, said a complaint over the British media allegations will be referred to the Organization for Security and Cooperation in Europe (OSCE).