Pak wants peace in Afghanistan: Imran Khan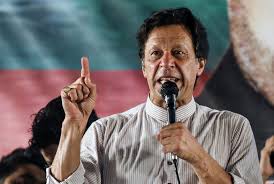 Islamabad: Prime Minister Imran Khan on Tuesday said Pakistan advocated peace in Afghanistan through talks.
The premier tweeted: "Pakistan has helped in the dialogue between Taliban and the US in Abu Dhabi. Let us pray that this leads to peace and ends almost three decades of suffering of the brave Afghan people. Pakistan will be doing everything within its power to further the peace process."
Dialogue between Taliban and US is underway in the United Arab Emirates. A five-member delegation of Taliban, headed by Sher Mohammad Abbas Stanakzai, head of Taliban political office in Qatar, went from Qatar while four senior Taliban leaders, including Ameer Khan Muttaqi, Mullah Abbas Akhund, Hafiz Yahya and Maulvi Siddiqullah had gone from Afghanistan for holding direct talks with the US.
Foreign Minister Shah Mehmood Qureshi has appreciated and welcomed international recognition of Pakistan's commitment and efforts for peace and stability in Afghanistan.
In a tweet, he said Pakistan had and always will work towards establishing peace in Afghanistan and building a more connected, prosperous neighbourhood.
Talks between US and Taliban officials aimed at arranging peace negotiations in Afghanistan were set for a second day on Tuesday after discussions around the future of foreign forces and a possible six-month ceasefire, Taliban sources said.
The three-day meeting in Abu Dhabi was at least the third time that US special peace envoy Zalmay Khalilzad has met Taliban representatives as diplomatic efforts to end the 17-year war have intensified this year.
On Monday, a Taliban delegation met officials from Saudi Arabia, Pakistan and the United Arab Emirates ahead of their meeting with Khalilzad, who was appointed to oversee Washington's peace effort in September.