Prince Andrew optimistic about sees "all sorts of" UK-China cooperation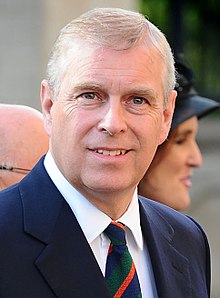 London: There are "all sorts of opportunities" for Britain-China cooperation as China continues its reform and opening-up, said Britain's Prince Andrew.
In a recent interview with Xinhua, the Duke of York said he was impressed by all the three Chinese entrepreneurs who entered the global final of Pitch@Palace, an initiative founded in 2014 by him and now an annual event at which budding entrepreneurs pitch their business ideas to a roomful of potential supporters from the business community.
On the sidelines of the contest, which was held at the St. James's Palace in downtown London, Prince Andrew told Xinhua that all the Chinese entrepreneurs are excellent and the event is about showing the great innovation around the world at the moment.
"China has got just as much innovation as anywhere else," said the prince.
Recalling his first visit to Beijing in 2004 as a "fascinating experience," he said he began to see the innovation that was going on in China during his following visits.
"It's just got bigger and bigger, and more and more. China has opened up more and more," he said.
He said he believes China is always an innovative country and keeps encouraging innovation progress.
"So it is a great privilege and a pleasure to be able to bring Pitch@Palace to China and to have Chinese partners that want to expand that around China," he said.
"It is not only about … finding businesses. It's about raising the awareness of your own population to the innovation that's going on and encouraging younger people in the school system to think about being an entrepreneur and solving problems in an entrepreneurial way," he added.
Prince Andrew has visited China regularly since 2004, and set up an account on the Chinese social media site of Weibo.
During his latest visit to China, Prince Andrew led a British delegation to Shanghai for the China International Import Expo (CIIE), a platform for Chinese businesses, investors and consumers to connect with overseas companies and forge long-term partnerships.
"I was very impressed with what I saw there, and the interesting thing is that I've been going to China long enough now to see the change from an economy that was looking at exports, to an economy that is looking at consumption and looking at imports," he said.
He said he believes the great transition means China will continue the process of development and it gives the two countries more opportunities to work together.
"I think there are all sorts of opportunities that we thus far haven't … found," he said.
The prince said that right from the first visit to China he realized the importance for Western people to understand China's development and that the best way of learning is to go to China.
"There is no point in trying to learn about China in London. Turn the telescope round, go to China, learn about it, and learn about the UK from a Chinese perspective. It's the fastest way to learn about China," he said.
He stressed that the more knowledge people or nations have of each other, there are more chances for people to reduce misunderstandings.
"We need not to be afraid of asking permission to find out why people think like that, or why we think like this, so it's about that human interaction," he said.
Citing the saying that it takes a lifetime to learn China, the prince said that every time he goes to China he wants to find somewhere new to go, so that he can learn something new about the big country.