Federal cabinet condemns bloodshed in Kashmir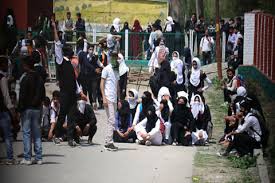 Islamabad: The federal cabinet meeting on Thursday condemned the bloodshed in held Kashmir.
The meeting decided that Prime Minister Imran Khan will contact United Nations chief António Guterres on Kashmir.
The cabinet meeting – chaired by PM Khan  'strongly condemned' the presidential rule and 'Indian aggression' in Kashmir.
Briefing journalists about the cabinet meeting, Information Minister Fawad Chaudhry said Prime Minister will talk to the UN Secretary General about 'worsening situation' in Kashmir.
He said Crown Princes of the United Arab Emirates and Saudi Arabia will visit Pakistan next month and in February respectively.
The Prime Minister directed the ministers to reduce their foreign visits to the minimum.
The cabinet directed the Interior Ministry to immediately remove names of Pashtun Tahafuz Movement lawmakers Mohsin Dawar and Ali Wazir from the Exit Control List (ECL).
The cabinet members focused upon 31-point agenda. Finance Minister Asad Umar briefed the participants over reduction in government spending.
The meeting also discussed various important agenda items including Afghanistan Pakistan Action Plan for Peace and Solidarity, refugees' repatriation, tribal areas reforms and signing of Memorandum of Understanding and cooperation between Saudi Arabia and Pakistan.
The cabinet also endorsed the decisions of the last meeting of the Economic Coordination Committee (ECC).