Hamdard Pakistan move towards digital business 'SAP'Ammara Khan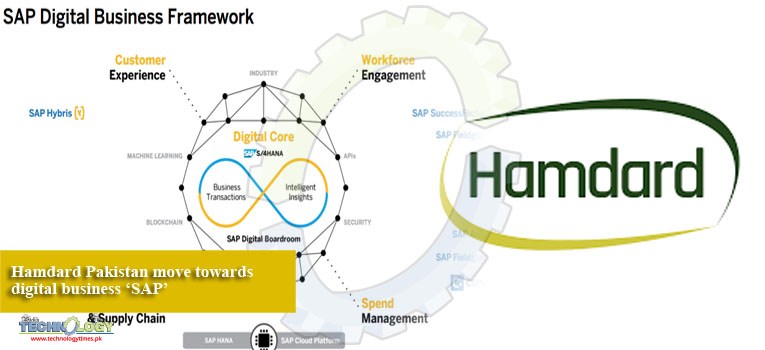 Hamdard Pakistan a classified research laboratory well-known for its Yunani and Ayurvedic medicine announced its latest move towards digital business transformation and automation through one of the best in-class ERP solutions, SAP S/4 HANA.
At a signing ceremony, held at the Hamdard corporate office in Karachi, Mrs. Sadia Rashid (Chairperson), Usama Qureshi (Managing Director and CEO), Ms. Fatema Munir Ahmed Mutawallia of Hamdard Pakistan and Farrukh Imdad (Director General Hamdard Foundation Pakistan) welcomed renowned guests, including Mr. Saad Kaliya (Partner at A.F. Ferguson, PwC Pakistan), Mr. Irfan Sheikh (CEO of WEMYT) and Mr. Munzer Aloush (Director General Business, North, Gulf and Pakistan, SAP).
In Pakistan, several corporations like, Fauji Fertilizer Company Ltd, Byco Petroleum Pakistan Ltd, Habib Bank Ltd, National Bank of Pakistan etc. and now Hamdard Pakistan have implemented SAP.
SAP S/4HANA – short for SAP Business Suite 4 SAP HANA is ERP software that is memory database and expediently allows companies to perform transactions and scrutinize business data in real-time.
Therefore, SAP is on the whole intended to cover all day-to-day processes of an enterprise (for example, order-to-cash, procure-to-pay, plan-to-product, and request-to-service) and core capabilities.
Mr. Usama Qureshi (Managing Director and CEO, Hamdard Pakistan) shared his vision of transforming Hamdard into a 'Progressive Organization', and creating capabilities that can assist a company acquire, retain and help customers, increasing speed and agility in insights, which is not possible without using a cutting-edge technology like SAP.
Introducing SAP, Hamdard would derive the benefits of improved efficiency, increased productivity, streamlined operations, and improved customer relations everything a company needed to keep itself relevant and competitive in today's fast-paced local and international markets.
Using amalgamation software, consequently, allows corporations to concentrate the smarts of their employees towards the creative side of productions. This not only helps the said corporations digitize their operations but also ultimately boosts our nation's economy with their success.