The feast of seven fishes a tradition among Italian Americans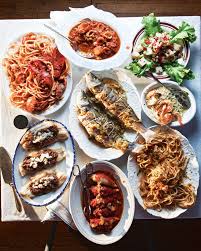 Rome: The feast of the seven fishes is a tradition among Italian Americans on Christmas Eve. If there aren't seven fish, well, we feel cheated, as if the holidays have been derailed, before they've really begun.
Those of us who make the dinners never want to disappoint families and friends. We shop tirelessly for the fish and cook, just as tirelessly, to make sure we offer seven — not six, not eight — but exactly seven fish.
Owner Mary Reyes has done the feast for the past seven years, noting that this year is "spectacular," she says, because it features — you guessed it — seven courses for $50 per person.
The first course is an option of fried calamari or fried smelts; the second course is seafood chowder; the third is grilled baby octopus with roasted peppers and olives; the fourth course is stuffed shrimp with crabmeat; the fifth is fish and chips; the sixth is herb-encrusted salmon with a honey sour cream dill sauce; and the seventh is chocolate turtle poke cake.
"The feast of the seven fishes is very popular with Italians, and most of them like the traditional fishes like smelts and octopus," says Reyes. "The feast is something our customers look forward to."
At Chart House at Golden Nugget Atlantic City, Executive Chef Rodney Seeberger has designed his menu around seven fish for Christmas Eve. At $55 per person, the menu features a panoply of fish dishes. "Nobody leaves here hungry," says Seeberger.
The first course features coconut fried shrimp, fried calamari and baccala salad, a Christmas Eve staple. The second course features shrimp stuffed with crabmeat; sole, Venetian style, made with raisins, pine nuts, vinegar and oil; snapper Livorno's, made with tomatoes, black olives, capers and white wine; and linguine with clams and wilted spinach with garlic and oil.
Guests get all of these options on their plates. "It's the feast of the seven fishes," says Seeberger. "They get all seven fish to enjoy."
At Atlantic City's Girasole, an elegant seven-fish menu, at $65 per person, features a three-course tasting on Christmas Eve. The first course tasting is crispy calamari; baked shrimp and cannellini beans; and grilled octopus. The second course tasting features black tagliolini pasta with jumbo lump crabmeat; farfalle with langoustine; and large rigatoni with littleneck clams and cherry tomatoes.
The third course is not a tasting, but a full entree. The choices are seared wild Atlantic cod with broccoli rabe; halibut baked in banana leaf; or grilled yellowfin tuna with grape tomatoes and olives.
At Little Italy in Northfield, manager Antonino Cannuscio has been offering the feast of seven fishes for the past two years. The response to the seven fish dinners so far has been "awesome," says Cannuscio, who hails from a little town in Sicily.
Two seatings are offered on Christmas Eve: 4:30 p.m., which is all but sold out, boasts Cannuscio, and 8:30 p.m., in which a few seats are available
At $39.99, the seven fish dinner is served family style and features fried calamari; baccala salad, a Christmas Eve staple made with radicchio, arugula and olive oil; zuppa di Grachio, which is butternut squash soup with crab; clams in a bouillabaisse sauce; mussels made with leeks, garlic, white wine and olive oil; homemade ravioli stuffed with lobster; and bronzino, a Mediterranean sea bass with fresh tomatoes, basil and olive oil.
Growing up in Sicily, Cannuscio recalls having seven fishes on Christmas Eve. "Every year, we celebrated with the seven fishes," says Cannuscio. "I remember eating the same fish year after year. But I've learned that people have different palates and might not like a certain fish, like smelts, for example. We've changed the menu this year to see what people are more comfortable with. It definitely features things people recognize."
At Ventnor's Red Room Café, owners Jack and Maria Gatta have offered the seven fish feast for the past nine years on Christmas Eve. Reservations are brisk, says Maria, noting that "it's one of the biggest events we have, and we have a lot of repeat customers."
The BYOB Red Room features a four-course dinner, priced at $55 per person. The menu showcases a choice of appetizers, which include fried seafood and a chilled seafood platter, as well as soup — lobster bisque and Manhattan seafood — or salad. Entrees are bronzino, orate, salmon puttanesca, seafood risotto, calamari in a plum tomato sauce, squid ink fettuccine with seafood and clams and mussels over linguine. A dessert of homemade Italian sweets, including struffoli (honey balls), put the finishing touches on the meal.
These restaurants prove you can celebrate the seven fishes with friends and family — without having to do all the work yourself.