US already overstayed in Syria: Trump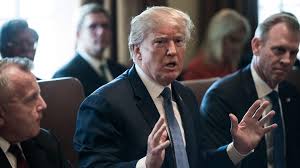 Washington: The United States had initially planned to deploy their force to Syria for three months, but eventually the US troops stayed there several years, US President Donald Trump wrote on Twitter.
"…going to be there for three months, and that was seven years ago – we never left. When I became President, ISIS was going wild. Now ISIS is largely defeated and other local countries, including Turkey, should be able to easily take care of whatever remains. We're coming home!" Trump wrote.
On December 19, US President Donald Trump said that the United States had defeated ISIS (Islamic State) in Syria, which was the only reason for the US troops being there, so all US troops would be pulled out of Syria. According to US officials, the US would withdraw its entire force of 2,000 service members from Syria within 60 to 100 days. Along with this, US Department of Defense Spokesperson Dana White stressed that "the campaign against ISIS is not over" and that the United States "will continue working with our partners and allies to defeat ISIS wherever it operates."
Washington launched a military operation against Islamic State in Iraq in June 2014 and in Syria in September 2014.
Trump's decision to pull the troops from Syria has startled not only US allies, including in the Middle East, but also members of the US Congress. Some influential senators of both parties have opposed Trump's step.