African countries have right to choose partners: China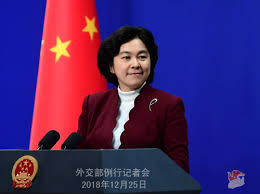 Beijing: African countries and people have the right and ability to independently choose partners, and the international community should listen more to Africa's voice, a Chinese Foreign Ministry spokesperson said when responding to a question about Rwandan president's remarks on Africa-China relations.
According to media reports, Rwandan President Paul Kagame said recently that China's engagement in Africa is "a good thing," and that "China is active in Rwanda but not in an inappropriate way."
"In Rwanda, we know our capacity and which Chinese proposals we should accept, so as not to be overloaded with debt," said Kagame, who was in Vienna, Austria for the High-Level Europe-Africa Summit. "It depends on us Africans. Why wouldn't we know how to negotiate with China?"
Noting that China-Africa practical cooperation has yielded fruitful results in recent years, Spokesperson Hua Chunying said at a routine press briefing that Africans can feel the true feelings of Chinese toward them and the tangible benefits brought by bilateral cooperation.
"It is an indisputable fact that China-Africa cooperation has been sincerely welcomed by African countries and people, and has been positively evaluated by the international community," Hua said.
The international community should listen more to Africa's voice, believe in its wisdom and respect its will when conducting cooperation with Africa, the spokesperson said, adding that it is doomed to get no consent from Africa to point fingers at Africa and China-Africa cooperation in disregard of facts or out of political purposes.