12 ancient royal tombs unearthed in China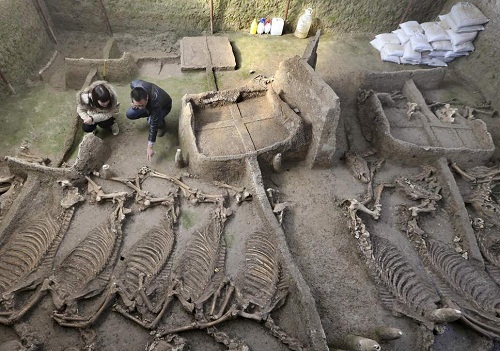 Taiyuan: A cluster of 12 royal tombs dating back more than 3,000 years ago was unearthed in north China's Shanxi Province, local archaeological authorities said.
An archaeological team from the regional institute of cultural relics and archaeology discovered a complex of royal tombs in the city of Yuncheng in December 2018, including 12 tombs and six sacrificial pins from the late Shang Dynasty (around 1600 B.C.- 1046 B.C.).
The team carried out an urgent excavation of the tomb complex in August 2017, given the tombs had suffered significant damage with four of its five major tombs robbed.
A total of 133 wares including copper wares, potteries, porcelain and jade wares were also unearthed in the tombs.
The findings provide new clues for the research of Shang Dynasty's capital Yin, known for its large discovery of oracle bone script, as well as its Yinxu culture, said Bai Shuzhang, a researcher with the excavation team.