Bilateral relations between Russia, US experiencing a freeze: Putin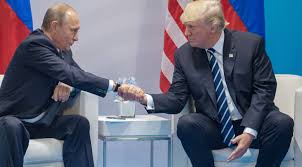 Vladivostok: Russia's President Vladimir Putin expressed regret that bilateral relations between Russia and the US have been experiencing a freeze.
"Unfortunately, our relations have gone into a freeze," he told the Eastern Economic Forum. "I believe, this is not our fault."
A thaw in relations between Russia and the US is not possible until the latter starts to respect Russia's national interests, Putin stated:
"It is quite possible to unilaterally pull out of the anti-missile defense treaty and build up this system while using the pretext of an Iranian nuclear threat. However, once it disappears, once the Iranian nuclear threat is gone, they act as if everything has been forgotten and continue developing that system in spite of everything. On the other hand, if our counterparts see it from a different point of view, the logic of respecting mutual interests – one another's interests – then our relations could change fundamentally," Putin explained.
Putin has also spoken about the period of the 1990s, when Russia began making democratic changes in society and carrying out market reforms.
"Clearly, at that time we laid the cornerstone for developing democracy and a market economy," he explained. "Despite all the problems and difficulties, I believe that that generation of lawmakers still managed to accomplish the undertaking. And we, of course, hoped that openness would bring about a similar response from our counterparts. However, this did not happen." he stated.
"They looked into their crystal ball of national interests and made their own decisions. So, how did they see it? Well since the Soviet Union collapsed, it is now time to squeeze Russia."