Govt involved in revenge politics: Bilawal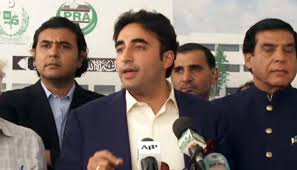 Lahore: Pakistan Peoples' Party (PPP) Chairperson Bilawal Bhutto Zardari Saturday said that the government was taking revenge from political opponents in the name of accountability.
Addressing a lawyers' gathering in connection with PPP founder Zulfiqar Ali Bhutto's birthday
Bilawal said my hands were clean as "I am not involved in any corruption. Those who theft people's mandate in 2018 elections should be accountable as well."
He said justice was not done in Asghar Khan case. "Pakistan Peoples' Party always made sacrifices for the democracy in the country," he said,adding that it will continue its struggle for the supremacy of the constitution.
The PPP chairman said the judicial murder of Zulfiqar Ali Bhutto was a great tragedy for the nation, and the PPP will accomplish his mission.
He said the Joint investigation Team's report was leaked out intentionally and the leakage was the violation of court orders. —