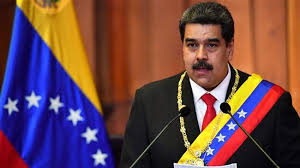 Moscow: Nicolas Maduro has been sworn in for his second term as Venezuela's president. The inauguration ceremony was broadcast live on Twitter.
The ceremony took place in the Supreme Court building instead of the National Assembly, as the Venezuelan parliament has been under control of the president's political opponents since December 2015.
The leaders of Bolivia, Cuba, Nicaragua, Salvador and South Ossetia attended the ceremony, while Russia was represented by Federation Council (the upper house of parliament) Deputy Chairman Ilyas Umakhanov.
The presidential election in Venezuela took place on May 20. Maduro received nearly 6.2 mln votes, while his main rival Henri Falcon, representing the Progressive Advance party, garnered 1.9 mln votes. Voter turnout was 45.99%.
On January 4, members of the Lima Group refused to recognize Maduro's second term. Argentine, Brazil, Canada, Colombia, Costa Rica, Chile, Guatemala, Guyana, Honduras, Panama, Paraguay, Peru and Saint Lucia called on him to refrain from taking office and hand power over to the National Assembly.