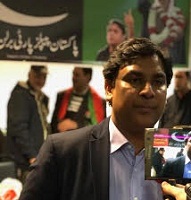 Hamburg: Pakistan People's Party (PPP) Germany chapter leader Farid Qureshi on Monday said the Pakistan Tehrik-e-Insaf (PTI) government was victimizing the PPP leadership under fake cases.
In a statement, the PPP leader said the PTI was afraid of Bilawal Bhutto Zardari's popularity and wanted to discourage the PPP workers by dragging the party leadership into fabricated cases.
He said the Joint Investigation Team (JIT) in the fake accounts case had lost its credibility after the Supreme Court's (SC) decision.
The SC had directed the removal of Bilawal and Sindh Chief Minister Syed Murad Ali Shah's names from the Exit Control List (ECL) besides deleting their name from the JIT report.
"We were saying from the very first day that JIT is politically motivated and it has lost its credibility in the wake of SC's decision. The apex court has declared inclusion of names of Bilawal Bhutto Zardari and Syed Murad Ali Shah as malafide intent."
He asked the federal cabinet to tender an apology for placing the names of Bilawal and Murad on ECL. "Those who had demanded the resignation of Murad Ali Shah should resign now," he said.