PM should know why politicians resort to boycotts: Khurshid Shah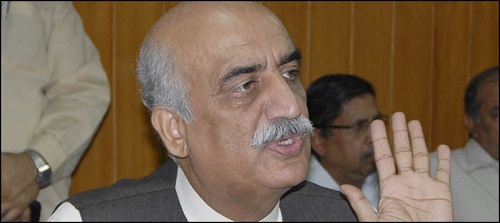 Islamabad: Pakistan People's Party (PPP) leader Syed Khurshid Shah Tuesday said Prime Minister Imran Khan should know why politicians resort to boycotts. He responded to Prime Minister Imran Khan's criticism of opposition parties for staging a walkout from the National Assembly.Speaking in the Parliament House, he advised the prime minister to weigh his words before saying anything as he held an important position. "One reason of boycott is the environment created by the government" "Imran Khan has fortunately become the prime minister of Pakistan. We are ready to accept that he is the prime minister," Shah said and asked Khan why he was not coming to Parliament. "You don't even respect Parliament. We at least come to Parliament."
He reminded the prime minister of his announcement to come to parliament every week to answer questions. "At least you shouldn't say that we are asking for NRO," he said and clarified that they hadn't asked the government for any NRO-style deal. Earlier, PM Khan tweeted: "In a Parliament that costs taxpayers billions yearly, yet another walkout in NA by the Opposition shows that this is the only function they intend to perform. These are pressure tactics to seek an NRO & evade accountability for corruption in NAB cases not initiated by PTI." Opposition members mainly belonging to the Pakistan Muslim League-Nawaz (PML-N) staged a walkout from the National Assembly on Jan 14 after opposition leader Shehbaz Sharif finished his speech pertaining to Mohmand Dam bidding contract.