"we condemn inhuman treatment of Kashmiri political prisoners" Sehrai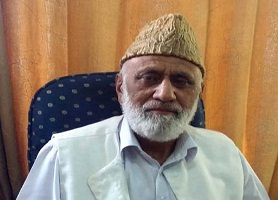 In occupied Kashmir, senior APHC leader, Muhammad Ashraf Sehrai, has condemned the inhuman treatment meted out to the Kashmiri political prisoners lodged in different jails of the territory and India.
In a statement in Srinagar, he termed the prejudiced attitude of jail authorities against the detainees as blatant violation of human rights.
The Chairman of Hurriyat forum, Mirwaiz Umar Farooq, has stressed the need for creating further unity among different segments of the society to frustrate the designs of anti-movement elements.
Talking to a group of religious scholars in Srinagar, he said the Ulema and Imams of Masajid had a great role in constructing a better society.
Meanwhile, Shopian remained shut for the third straight day today, to mourn the martyrdom of two youth, Zeenat-ul-Islam and Shakeel Ahmed Dar, by Indian troops in Yaripora area of Kulgam district on Saturday.
In yet another case of a minor's detention, Indian police arrested a juvenile from Shopian in violation of Juvenile Justice Act. This is the third such arrest in 14 days.