Zardari can't be arrested to please others: NAB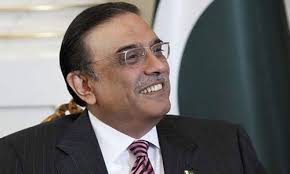 Islamabad: The National Accountability Bureau (NAB) Wednesday said that Pakistan People's Party (PPP) co-Chairman Asif Ali Zardari cannot be arrested on the whims of others.
The Bureau said the law will take its course in the fake bank accounts case. In a statement, the anti-graft body however, said those named in the case including Asif Zardari, Murad Ali Shah and Faryal Talpur could not be arrested on the whims of others.
It said the bureau was carrying out investigation according to the constitution and law.
The accountability court further said that it did not receive the Supreme Court's detailed verdict on fake accounts case yet. It also rejected the impression that the court is moving slowly in this regard.
NAB also took notice about the federal minister's statement and asked the Pakistan Electronic Media Regulatory Authority (PEMRA) to provide the excerpt of the interview that was given to the media.
In the statement, the accountability court said that it has rejected all kind of pressure. On December 24, the Joint Investigation Team (JIT) presented its 128-page final report before the apex court on fake bank accounts case.
According to the contents of the JIT report, earlier 29 fake accounts were identified by FIA. The JIT further explored 11,500 bank accounts of 924 account holders associated with the above mentioned 29 accounts, 59 Suspicious Transaction Reports (STRs) and 24,500 Cash Transactions Reports (CTRs) were scrutinized along with the loan profile of 924 individuals and entities.
The JIT report said the fake accounts were opened through Omni Group employees however, these accounts remained engaged in direct transactions with Zardari Group and family, Bahria Town, Sindh government departments and contractors of the Sindh government and the ultimate beneficiary of this money laundering cartel was primarily the family patronised by the Omni Group, Zardari family.