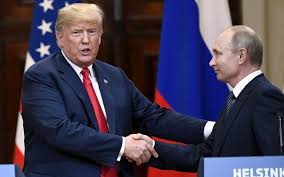 Moscow: Relations between Russia and the United States have been "worse than ever," and nothing has yet happened to improve them, Kremlin Aide Yuri Ushakov told reporters.
"The relations are worse than ever. Nothing in the context of their improvement has happened yet," he said.
Along with this, Putin's aide added that "some contacts are being maintained, in particular [Russian Deputy Foreign Minister Sergei] Ryabkov held talks on arms issues in Geneva. That's all," he said.
Russian-US relations plunged to one of the lowest points in 2014 under then US President Barack Obama, when the United States backed the anti-constitutional change of power in Ukraine and branded as "annexation" Crimea's reunification with Russia. Most bilateral contacts were put on hold whereas the US slapped sanctions on Russian individuals and legal entities.
The sanctions have been extended and expanded several times since then, even under the current President Donald Trump. In spite of his numerous promises to get along with Russia, the US president pointed out recently that "I have been far tougher on Russia than Obama, Bush or Clinton. Maybe tougher than any other President.".