Delta IV Heavy rocket puts into orbit a secret payload for US NRO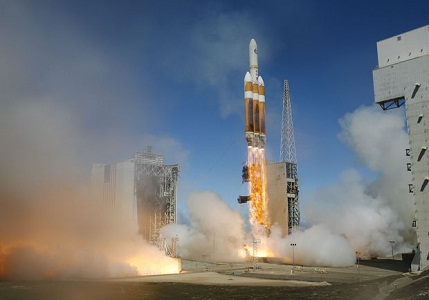 New York: A Delta IV Heavy rocket has successfully put into orbit a secret payload for the US National Reconnaissance Office (NRO), the United Launch Alliance (ULA) said on its website.
"Congratulations to our team and mission partners for successfully delivering this critical asset to support national security missions," Gary Wentz, ULA vice president of Government and Commercial Programs, was quoted as saying in a company statement.
The launch took place at 11:10 local time (22:10 Moscow time) on Saturday, with a five-minute delay caused by strong winds. The weather conditions were only 40% favorable for the launch. The live broadcast of the launch on ULA website was concluded six minutes after the blastoff, following the separation of the rocket's payload fairing, at the request from NRA.
No information is available about the payload, known under the codename NROL-71.
Delta IV Heavy is the heavy modification of the Delta IV rocket. It features two additional boosters, adjusted to the sides of the main segment. The rocket is capable of taking the payload of up to 14.2 tonnes to the geostationary orbit and up to 28.8 tonnes – to the low-earth orbit.
ULA, a joint venture of Boeing and Lockheed Martin, was founded in 2006 and is headquartered in Centennial, Colorado. Saturday's launch was the company's 132nd successful launch overall, the 38th launch of Delta IV since 2002 and 11th launch of Delta IV Heavy.
ULA's next Delta IV rocket launch is the WGS-10 mission for the US Air Force. It is scheduled to take place on March 13, 2019 from Space Launch Complex-37 at Cape Canaveral Air Force Station, Florida.