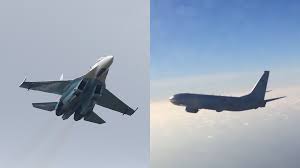 Moscow: A Russian Sukhoi Su-27 fighter jet intercepted a US P-8A Poseidon reconnaissance plane over the Baltic Sea, Russia's Defense Ministry announced.
The airspace control equipment registered a target over the neutral waters of the Baltic Sea approaching the Russian state border, the ministry said.
"A quick reaction alert Su-27 fighter jet from the Air Defense Force was scrambled to intercept the target in the air. The Russian fighter's crew approached the air object at a safe distance and identified it as a P-8A Poseidon reconnaissance plane of the US Air Force," the ministry noted.
The Russian plane subsequently returned to its home airbase, the ministry said.
The Su-27 is a fourth-generation multirole supersonic all-weather fighter aircraft armed with air-to-air and air-to-surface missiles of various types (it has from 10 to 12 external hardpoints for missiles). The fighter jet is also furnished with a 30mm automatic aircraft gun (with a rate of fire of 1,500 rounds per minute and an ammunition load of 150 rounds).
The P-8 Poseidon is an anti-submarine warfare patrol plane designed to spot and destroy enemy subs in the areas of patrolling and reconnaissance and take part in anti-ship and rescue operations.
Russia's Defense Ministry regularly provides the statistics of flights by fighter jets of the Aerospace Force to intercept and shadow foreign military planes near the Russian borders but without giving details of specific incidents.
The Defense Ministry's newspaper Krasnaya Zvezda reported on January 25 that fighter jets of the Russian Aerospace Force were scrambled twice over the week to prevent violations of the country's airspace. According to the paper, the fighter aircraft thwarted an attempt to breach Russia's airspace.