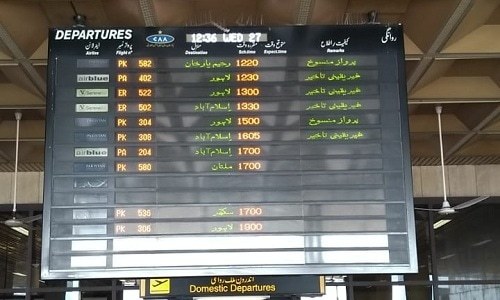 Islamabad: Pakistan's air space was temporarily closed Wednesday in view of the heightening Pak-India tensions.
According to details, flight operations in Lahore, Islamabad, Faisalabad, Karachi and Quetta have been suspended.
Allama Iqbal International Airport, Lahore's manager said that the flight coming from China's Guangzhou airport has been diverted while the flight operations from arriving and departing in Pakistan have been suspended until further orders.
Earlier, flight operations at Bacha Khan Airport have also been suspended.
The flight operations have been suspended in view of the worsening security situation in the country.
Earlier in the day, the Pakistani army tweeted that two Indian jets had been shot down after they crossed the so-called Line of Control separating the Indian- and Pakistani-controlled parts of Jammu and Kashmir region.
"Today, Pakistan Air Force undertook strikes across Line of Control from within Pakistani airspace. This was not a retaliation to continued Indian belligerence. Pakistan has therefore, taken strikes at non military target, avoiding human loss and collateral damage. Sole purpose being to demonstrate our right, will and capability for self defence," the ministry said in a statement.