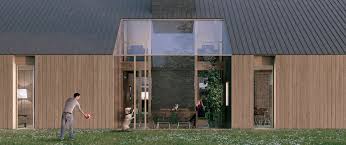 Rome: LCA architetti, a young milan-based architecture studio, introduces its single-family residence entitled 'the house of the archaeologist.' with a sustainable approach to philosophy, the studio makes use of raw materials from renewable resources.
The house is built of materials recovered from decommissioned quarries and landfills. with respect for its picturesque natural surroundings, 'house of the archaeologist' has been insulated to further efficiently reduce energy consumption.
The building is designed as a reinterpretation of traditional heritage buildings, expressing the brick textures of historic walls and the large cut stones that often interrupted the frame as lintels or cornerstones.
Tiwards the interior, luca compri with the team at LCA architetti makes use of repurposed fluted concrete block, marble slabs, and travertine.
The building rises two levels above the ground floor with a bright living room, kitchen, dining room, and small bathroom. bedrooms, master baths, and the client's private office are organized on the first floor above. all windows overlook the vast, surrounding landscape characterized by vineyards and cultivated fields.
Tge team aimed for a simple, primitive mineral building capable of vibrating in the light differently in the morning, noon, and evening. the project is built with recovered materials no longer in use, introducing new life and reducing their impact on the environment. LCA comments: 'we wanted to donate to our client a house that had in it its soul and its passions for history and archeology.'