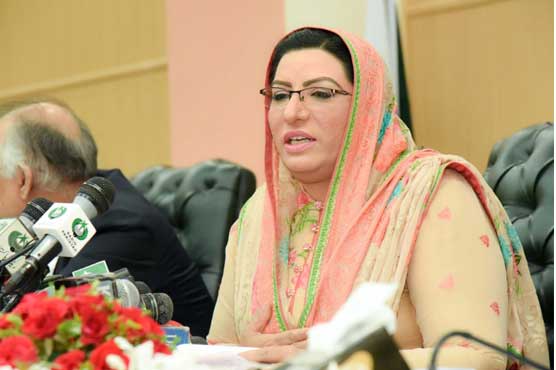 Islamabad: Special Assistant to Prime Minister on Information and Broadcasting Dr Firdous Ashiq Awan said
that relief for public is top priority of government in the upcoming budget.
She said the PM Imran Khan would take the nation into confidence soon.
Addressing a news briefing in Islamabad on Sunday along with PM's advisor on accountability Shehzad
Akbar, the Special Assistant said it is not true that government is unaware of defence budget requirements.
She added that unwise opposition is making propaganda against national security.
"The upcoming budget will be the first financial document of the PTI government prepared to ensure
sustainable economy and it will present a long term way forward to set economic goals for the next five years.
She said that despite economic challenges, the government is not ignorant of country's defence needs.
The SAPM said Pakistan military supported government's austerity measures and did not demand addition in
defence budget. She said all government departments would follow austerity measures by cutting unnecessary
expenditures.
She said government has set its priorities for the people friendly budget which would be presented on June 11,
adding that fake news regarding budget are being spread on media.
Talking about Pakistan Muslim League (Nawaz) leader Rana Sanaullah, she said disagreement with political
leaders should be there but with no personnel attacks.
She asked leader of opposition in the National Assembly Shahbaz Sharif to show courage and sincerity with
the nation and face the cases against him.
Criticizing the leadership of PML-N, Dr. Firdous said the current inflation was the result of corruption and
bad governance of previous governments.
She said that it was for the first time in history of Pakistan that corrupt and powerful were being brought to
justice.