Bilawal forms committee for dialogue with BNP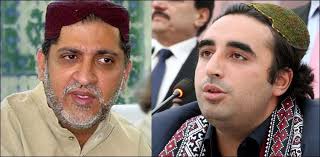 Islamabad: Pakistan People's Party (PPP) chairman Bilawal Bhutto Zardari on Thursday formed a four-member committee for dialogues on Balochistan National Party-Mengal's (BNP-M) offer to join the opposition.
The four-member team comprises of Syed Khursheed Shah, Nayyer Bukkhari, Raja Pervaiz Ashraf and Farhatulllah Babar will hold dialogues with the BNP-Mengal.
The PPP chairman's political secretary Jamil Somro has issued the notification for the formation the committee.
Sources said that BNP-Mengal's Akhtar Mengal had sent a message to Bilawal for the formation of committee and also offered to join the opposition in return for support of their demands.
Mengal had offered the opposition for a written agreement on their demands and the BNP would become part of the opposition after successful doalogues.