Shooting down US drone could have been the result of human error, Trump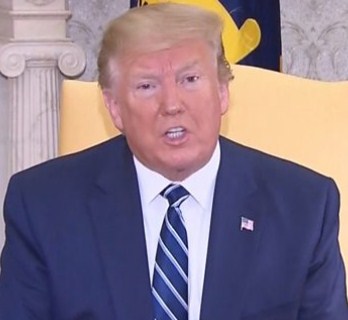 Iran "made a very big mistake" in shooting down a US military surveillance drone over the Strait of Hormuz, President Donald Trump says.However, he told reporters it could have been the result of human error, saying: "I find it hard to believe it was intentional."
Iran said the drone had violated Iranian airspace, but the US military denied this.The incident comes amid escalating tension between the two countries.Iran's Foreign Minister Javad Zarif said Iran would take its complaint that the US "encroaches on our territory" to the UN.
Iran's Islamic Revolutionary Guard Corps (IRGC) said its air force had shot down a US "spy" drone in the early hours after the unmanned aircraft violated Iranian airspace near Kuhmobarak in the southern province of Hormozgan.
In a speech on Iranian state TV, IRGC commander-in-chief Maj-Gen Hossein Salami said the drone's downing was a "clear message" to the US that Iran's borders were "our red line".
The US military's Central Command later confirmed that a US Navy Broad Area Maritime Surveillance (BAMS-D) aircraft was shot down by an Iranian surface-to-air missile system while operating in what it said was international airspace over the Strait of Hormuz at approximately 23:35 GMT on Wednesday (04:05 Iran time on Thursday).