Zardari's production order expires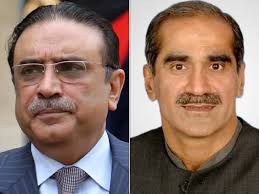 Islamabad: Former President and Asif Ali Zardari's production order on Saturday expired after the last session of budget concluded in the Parliament.
Foreign Minister Shah Mehmood Qureshi said Zardari and Pakistan Muslim League-Nawaz (PML-N) leader Khawaja Saad Rafique remained absent from the National Assembly on the concluding day of the budget session.
"The NA speaker had issued their production orders to take part in the proceedings, but they did not attend the session", he said while speaking in the National Assembly.
It was stated that Zardari's arrest was put on hold for the budget session and it was nullified with the conclusion of Parliamentary session. Former President to stay in the custody of National Accountability Bureau (NAB) till the issuance of new production order.
It has been informed that Zardari's will be issued new production order for the sessions of Standing Committee.
Talking to journalists, Zardari asserted that Asad Qaiser should act as a Speaker rather than being a selected Speaker in the National Assembly.
"All of it was executed as a master plan," he added. He added that Opposition will not sit in the Assembly if he continues running the House like this as it does not matter anything this way.