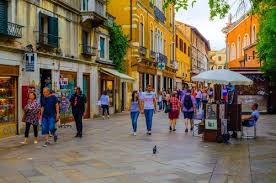 Rome: Italy has contributed to several facets of civilization. Italian fashion, architecture, food, art and sense of business continue to influence the modern world. Italians are natural lifestyle gurus the more reason why you would like a piece of Italy in your space.
Traditional Italian homes are a bit overbearing with floral and peach. We show you how to execute a fresh bella twist of modern Italian design in your space.Think maximalist: Out with minimalist Scandinavian thoughts. The Merchants of Venice people are all about
Maximalism. A good start to build around a maximalist look is to get a couch in a rich solid colour that will allow your accent pieces to all come alive in the space.
Italians love their string lights strewn everywhere. You can reserve these for the front door and balcony areas to still keep up with the Italian vibe without running outrageous power bills.Italian classics: Remember to add key elements of Italian design. Pompous light fixtures for once are a basic requirement in many mediterranean spaces. Ample light is another synonymous element of Italian design. Allow plenty of light to flow through your space.
Colour will bring in Italian pizzazz to your space. Think of sunshine, picnics and a whimsical stage. The
easiest way to introduce colour is through pillows, vases, flowers and art.Italian Riviera stripes: Infuse the popular Riviera stripes in your décor. The Riviera is an Italian coastline that is lined with navy and white striped umbrellas. You can use drapery and upholstery fabric to make a statement with stripes in pillow, runners or curtains.
Al Fresco: Italians dine Al Fresco, which essentially means dining in the open. Take your dining spaces out to the garden or to a balcony or as close to a window as you possibly can. Remember to throw in some pasta and veni, vidi, amavi your new space.