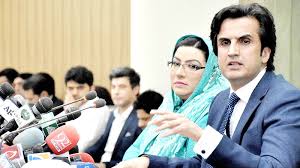 Islamabad: The government has decided to set up China-Pakistan Economic Corridor Authority to upgrade the existing structure for speedy and focused execution of the projects.This was announced by Minister for Planning and Development Khusro Bakhtiar while addressing joint news conference along with Special Assistant on Information Firdous Ashiq Awan in Islamabad Saturday.
He said a bill to this effect will soon be introduced in parliament.The Minister said the authority will work under Ministry of Planning and Development, and specialists in various sectors will work with a focused and scientific approach.He said the two countries have also decided to establish Pakistan-China Business Council with a view to include people from the private sector to implement industrial and agricultural development projects under the second phase of CPEC. He said Pakistan has shared names of leading industrialists with the Chinese side for the purpose.
Khusro Bakhtiar said 8.5 billion dollars ML-1 railway track project has been divided into three phases, and the preliminary design of the project was signed during the last visit of the prime minister to China. He said the project will contribute to materializing the dream of regional connectivity through Pakistan.
The Minister said Gwadar Master Plan is being finalized, under which Gwadar will emerge as an attractive smart port of the world. He said various projects are being executed in Gwadar under CPEC.He said the Chairman of National Development Reform Commission of China will visit Pakistan in October this year.
The Planning Minister said the government is committed to all the projects and agreements under CPEC. He said the PTI government has signed agreements with China in agriculture, industrial and socio-economic development sectors under the second phase of CPEC. In the first phase, he said, energy and infrastructure projects were focused. He said the ongoing projects, including the roads of the western and eastern routes of CPEC, will be completed.
The Minister said China has made commitment of one billion dollars for socio-economic development in the country.