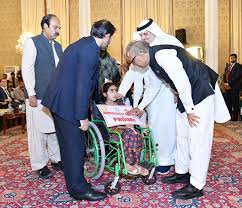 Islamabad: President Asif Alvi on Monday stressed the need to register disabled person.He was addressing a ceremony in connection with distribution of customized wheel chairs amongst disabled persons in Islamabad.
He asked NADRA and Pakistan Bait-ul-Mal to complete the process at the earliest. He said the registration will help provide facilities and assistive devices to the disabled persons as per their requirements.
The president said that despite difficult economic situation, the government has doubled budget for Ehsaas program in order to protect the vulnerable and weak segments of the society.
Arif Alvi said the society as a whole also has a responsibility towards the welfare of the disabled persons. He said safe and easy access of disabled persons to public parks and buildings be ensured.
The President also called for strict implementation of their five percent job quota in public sector organizations. He said the special persons should be provided with jobs keeping in view their disability.
Speaking on the occasion, Chairman Pakistan Bait-ul-Mal Aon Abbas said a program is being started in twelve districts of the country to provide the disabled persons with customized wheel chairs and five other assistive devices.
Earlier, the President also distributed customized wheel chairs amongst the disabled persons.