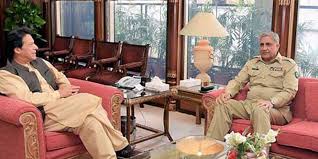 Islamabad: Chief of Army Staff (COAS), General Qamar Javed Bajwa called on Prime Minister Imran Khan on
Wednesday wherein the PM upcoming visit of the USA especially deliberated upon.
Matters related to the PM upcoming visit to America also came under discussion.
It may be noted that Prime Minister Imran Khan will embark US visit on July 21 for three days official visit
where PM will hold meeting with US President on July 22.
Both leaders will have one on one and delegation level meetings. Foreign Minister Shah Mehmood Qureshi,
Sohail Mehmood and US Foreign Secretary Mike Pompeo would be part of meeting.
PM's meeting with other office bearers and stockholders is being scheduled. Sources said the meeting would
discuss Pak-US relations, Afghan peace process and Pakistan's support for Taliban dialogue.
Earlier, FM Qureshi said that US President Donald Trump had invited the prime minister in June but he could
not undertake the visit because of the budget session.
The foreign minister also said that talks between the two leaders would focus on "important regional
matters". Pakistan has helped the United States in jumpstarting the ongoing US-Taliban dialogue.
The United States now wants Islamabad to use its influence to persuade the Taliban to hold direct talks with
the Afghan government. Pakistan also hosted an intra-Afghan meeting in
Bhurban last month, which was seen as the first step towards making the Afghan government more acceptable
to the militants.
Kabul sent its representatives to the meeting, although the Taliban opted to stay out. Afghan President Ashraf
Ghani also visited Islamabad to seek its support for opening a communication link to the Taliban.