Rehman Malik fears Twitter would be suspended across country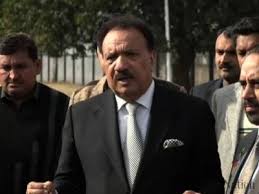 Islamabad: Pakistan People's Party (PPP) Senator Rehman Malik on Wednesday hinted at suspension of social media website Twitter across the country.
Addressing the upper house during a session of Senate's Standing Committee on Information Technology,
Rehman Malik urged pertaining authorities to take action on social media campaign against her fellow PPP
leader Rubina Khalid.
"Twitter should appoint a representative for Pakistan or else its service will be halted in the country. It is being run on social media that 14 maund of gold has been found from my home", Rehman Malik said.
"If this much gold was in my home then it means that a game of trillions was at stake", he added in a joking
manner.
On this occasion, Rubina Khalid revealed that she will hand over her case to cybercrime wing of Federal
Investigation Agency (FIA).
Rehman Malik responded that the committee was taking this affair as a petition and FIA should submit a
report in the case within a week.