Bilawal seeks Abbasi's release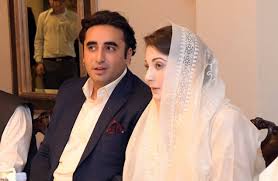 Karachi, July 18: Chairman Pakistan People's Party Bilawal Bhutto Zardari on Thursday condemned the arrest
of former Prime Minister and Pakistan Muslim League (Nawaz) leader Shahid Khaqan Abbasi and termed his
arrest as a part of 'witch-hunt of selected government' against the elected representatives while demanding
his release.
In a statement issued here, the PPP Chairman expressed that the selected government wants to hide its utter
failures by detaining and arresting political opponents but the protests against its continuous attacks on the
national economy would not end.
Bilawal Bhutto asserted that 'selective accountability by the selected government' would never be accepted
despite the use of illegal and unconstitutional tools against the joint opposition. He demanded release of
former PM Shahid Khaqan Abbasi.
In connection with an ongoing investigation into the 'illegal' award of the Liquefied Natural Gas (LNG)
contract with Qatar, the National Accountability Bureau (NAB) today (July 18) arrested Shahid Khaqan Abbasi near Thokar Niaz Baig toll plaza in Lahore.
Abbasi has been 'accused of commission of the offence of corruption and corrupt practices' by the anti-
corruption watchdog.