Chinese private rocket firm makes successful orbital launch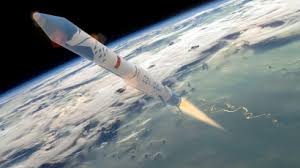 Jiuquan: A carrier rocket developed by a Chinese private company successfully sent two satellites into orbit
from the Jiuquan Satellite Launch Center in northwest China Thursday.
The SQX-1 Y1, developed by a Beijing-based private rocket developer i-Space, is a four-stage small commercial carrier rocket.
The rocket's body has a maximum diameter of 1.4 meters, length of 20.8 meters and takeoff weight of 31
tonnes. It has a lift capability of sending 260 kg of payload to 500 km high sun-synchronous orbit. It marks
the first successful orbital launch by a private Chinese firm.
Cai Jingqi, vice president of i-Space, said the successful launch shows that the company has fully grasped the
related core technologies in carrier rockets.
Zhang Xiaomin from the School of Aerospace Engineering, Beijing Institute of Technology, said the orbital launch is a milestone in demonstrating that China's privately developed carrier rockets are capable of delivering payloads into space.
By the end of 2018, China has seen over 100 registered private companies in the commercial space industry, according to a market report.